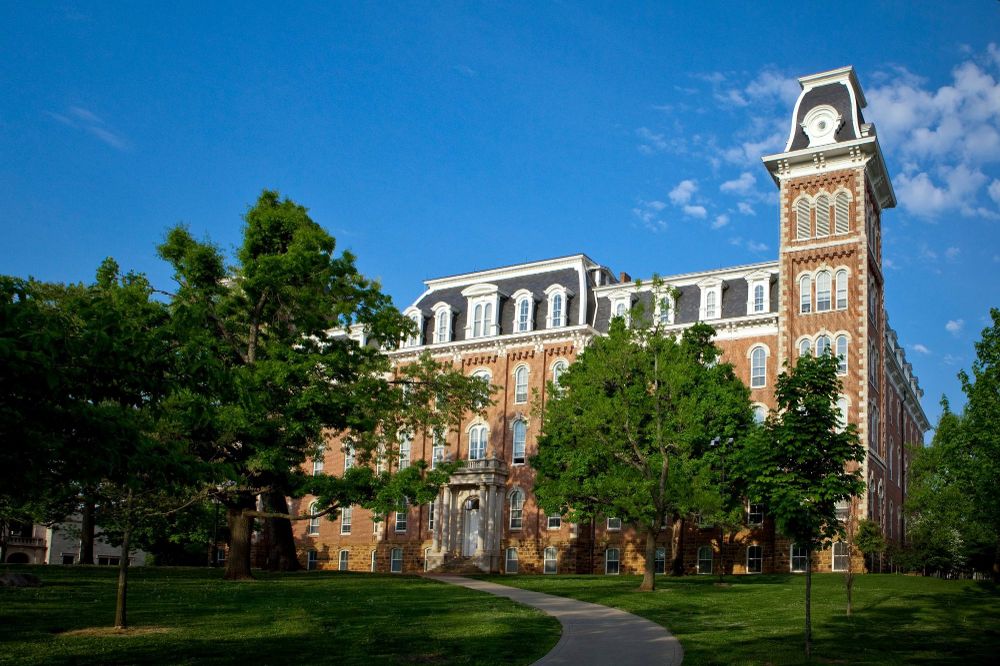 Guided by a philosophy that puts students first, the University of Arkansas offers high-caliber teaching and hands-on research experiences to undergraduate and graduate students on a beautiful campus in Fayetteville, consistently rated one of the nation's five best places to live. The U of A is flourishing, with enrollment now exceeding 27,500 students. The university has also invested more than $1.3 billion in new construction, major renovations and facilities enhancements since 2000.
The University of Arkansas is consistently ranked among the nation's best college values by many publications and has some of the top programs in the nation. The Sam M. Walton College of Business has been one of the nation's top 30 business schools by U.S. News for 17 years in a row. The Supply Chain Management program is 11th in the nation among public universities and the Management Information Systems program ranks 16th. The Fay Jones School of Architecture and Design was named 28th among most admired architecture schools by Design Intelligence in 2019. And the School of Law is ranked 47th among public law schools and also named consistently since 2011 as one of the best values among American law schools.
In 2018 the Carnegie Foundation for the Advancement of Teaching confirmed the university's classification as a "Research 1" doctoral university — placing the U of A among only 3 percent of universities and colleges nationwide with "Very High Research Activity."
Recent academic initiatives include a new service learning component added to many of the courses offered across campus. New undergraduate majors include a B.S. in Data Science and a B.F.A. in Studio Art as well as a new Department of Strategy, Entrepreneurship and Venture Innovation. New minors include event management and Substance Use Disorders with other existing minors such as history, legal studies and hospitality management being added to the university's large number of online minors. A new graduate program in Design Studies was added in 2018.
Interdisciplinary programs include space and planetary sciences, microelectronics-photonics, nanotechnology, planning, sustainability, cell and molecular biology, environmental dynamics, public policy and statistics & analytics. Additionally, the U of A has more than 50 research centers, including three National Science Foundation Industry/University Cooperative Research Centers and the National Center for Reliable Power Transmission — the most powerful power testing facility at any U.S. university.
Campaign Arkansas, the university's current capital campaign, is on track to reach its $1.25 billion goal. During its last capital campaign, the university raised $1.046 billion, establishing 132 new endowed chairs and professorships. This effort included a $300 million gift from the Walton Family Charitable Support Foundation, which endowed 241 graduate fellowships and created the Honors College, ranked in the top 20 of the nation's best public Honors Programs. Honors College students benefit from 350 fellowships and a generous endowment for research, service learning and study abroad opportunities. Honors programs are offered in all disciplines, tailored to academic interests, with interdisciplinary collaborations encouraged.
U of A students have an impressive track record of earning a substantial number of nationally and internationally prestigious scholarships, awards and fellowships each year, including Rhodes, Marshall, Goldwater, Truman, Fulbright and Gates Cambridge awards, as well as 142 NSF Graduate Research Fellowships. Over the past five years, hundreds of U of A students earned national awards and scholarships totaling more than $10 million. The U of A is also No. 1 in the SEC in number of Truman Scholarship recipients.
Since its founding, the University of Arkansas has compiled a remarkable record of scientific, technological, intellectual and creative accomplishments. This achievement is exemplified by the late U.S. Senator J. William Fulbright, a Rhodes Scholar as a student and eventual president of the university. In 1946, as a member of the U.S. Senate, Fulbright authored what became known as the Fulbright Program, the nation's primary international educational exchange program for scholars, students, educators, artists and professionals.
The U of A also boasts a unique tradition among American colleges and universities: Senior Walk, consisting of more than three miles of sidewalks displaying the names of more than 200,000 graduates, dating back to the first graduating class of 1876.