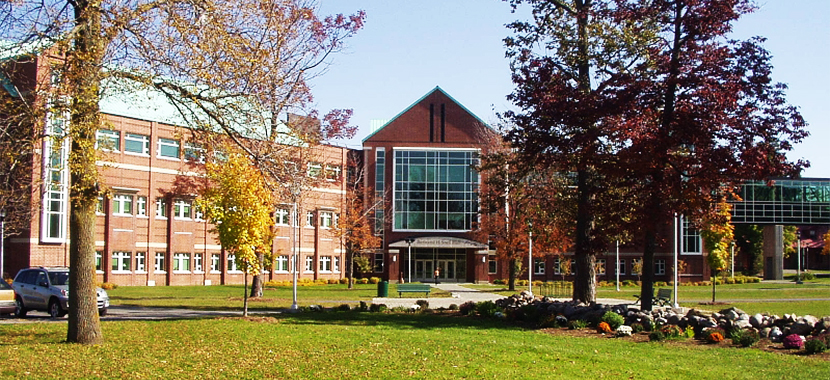 Clarkson University is a private, international research university and proven leader in technological education and sustainable economic development. Science, technology, engineering and mathematics (STEM) intersects with our scholarship, research, innovation and teaching through more than 95 rigorous programs of study in engineering, business, arts, education, sciences and health professions. With our 4,800+ students, we ignite connections across disciplines, industries and social cultures to create the entrepreneurial mindset, knowledge and intellectual curiosity needed to innovate world-relevant solutions and prepare the leaders of tomorrow. Alumni earn salaries that are among the top two percent in the USA and realize accelerated career growth. Clarkson's main campus is located in Potsdam, New York, and additional graduate programs, online networks and research facilities are based in New York State near industry partners in Saranac Lake, Schenectady, Beacon and New York City.
The favorite verse of our namesake Thomas S. Clarkson, "the workman that needeth not to be ashamed," was the motto chosen by the founders when our doors opened in 1896 as a new kind of school that blended a technology-rich curriculum with other disciplines, and compelled faculty and students to always seek out the real needs of everyday people. Today, we continue to defy convention by going beyond the status quo of deep disciplinary knowledge. Everyone has opportunities and hands-on access to build the practical skillsets to stretch boundaries. Clarkson graduates emerge with the entrepreneurial competence to make sense of complex systems and forge connections across people and fields. One in five alumni already leads as a CEO, senior executive or owner of a company.
Clarkson's globally oriented faculty pursue interdisciplinary research focused on rapidly solving real world problems for a better future. Example signature areas of research include healthy global solutions, advanced materials development, computational and data-enabled discoveries, next generation medicine and healthcare, and STEM and entrepreneurial education. Our external network engages 380+ active partners in industry, government agencies, chambers of commerce and research organizations affording students access to world relevant problems to pursue with their professors as well as a direct pipeline to internships and careers after graduation. In addition to an engaged 44,000+ strong alumni community living in 87 countries, our global reach extends through the networks of our schools, ROTC command, research centers and institutes.
Independent think tank, Brookings Institution, validates the value of a Clarkson education by placing us in the top 10 universities in the United States for increasing our students' lifetime earnings potential. Our commitment to live and lead by example begins with the University Mission Statement, the Vision of a Clarkson Education, and our Clarkson Values.
Clarkson's major academic units are the Wallace H. Coulter School of Engineering, the David D. Reh School of Business, the School of Arts & Sciences, the Earl R. and Barbara D. Lewis School of Health Sciences, the Graduate School, The Clarkson School (a unique academy for high school-age students who begin college early) and Sponsored Research Services, which oversees a $13.9 million portfolio of contracts. Three institutes also support key areas of interdisciplinary research, educational programs and public outreach. These are the Institute for a Sustainable Environment, the Institute for STEM Education and the Beacon Institute for Rivers and Estuaries.
Research centers further leverage the University's scholarly strengths. The Center for Advanced Materials Processing (CAMP), a New York state Center for Advanced Technology, contains state-of-the-art research laboratories that enable faculty to pursue cutting-edge research and are accessible to undergraduates and graduate students for collaborative projects. The Center for Rehabilitation Engineering, Science and Technology (CREST) serves to integrate biomedical engineering and science with assistive and adaptive technologies and physical therapy to improve lives affected by disease or injury. Clarkson University and SUNY College of Environmental Science & Forestry (ESF) to co-lead a new Center of Excellence (CoE) in Healthy Water Solutions to deliver synergistic problem-solving on the wide range of water issues impacting the Empire State.
As a National Science Foundation Industry/University Cooperative Research Center, the Center for Identification Technology Research (CITeR) serves its affiliates in the rapidly growing areas of Biometric Identification and Credibility Assessment Technology through an interdisciplinary group of faculty, researchers and students. The Clarkson Center for Complex Systems Science (C3S2) addresses the rapidly growing field of identifying and understanding causality in large-scale systems, as well as the hierarchical interactions, patterns and scaling of system components across a variety of fields, such as brain science, insect swarming, social science and fluid dynamics.
Clarkson University is accredited by the Middle States Commission on Higher Education (MSCHE). Programs in aeronautical, chemical, civil, computer, electrical, environmental, mechanical and software engineering are accredited by the Engineering Accreditation Commission of the Accreditation Board for Engineering and Technology Inc. (ABET). Students who have completed at least three years toward a bachelor's degree in engineering are eligible to take the Fundamentals of Engineering examination toward licensure as professional engineers. The Reh School is accredited by the Association to Advance Collegiate Schools of Business (AACSB). The undergraduate engineering and management program in the Reh School is also accredited by EAC ABET. The healthcare MBA program is accredited by the Commission on Accreditation of Healthcare Management Education (CAHME).
The MAT program in the Department of Education has Association for Advancing Quality in Educator Preparation (AAQEP) accreditation until 2026. The physical therapy curriculum is accredited by the Commission on Accreditation in Physical Therapy Education (CAPTE) of the American Physical Therapy Association (APTA). The Accreditation Review Committee on Education for the Physician Assistant (ARC-PA) has granted Provisional Accreditation to the physician assistant studies program. The Accreditation Council for Occupational Therapy Education (ACOTE) of the American Occupational Therapy Association (AOTA) has granted "Candidacy Status" to the occupational therapy program at Clarkson University.In addition, the University is accredited by the United States Civil Service Commission, and its curricula are approved by the New York State Board of Regents.